COMPANY INFORx Systems, Inc. is a full-service provider of pharmacy packaging and supplies. For 40 years, Rx Systems has helped pharmacies develop products and strategies to serve their patients better, and more efficiently. We do this by designing, manufacturing, and distributing items specifically for the pharmacy field. Rx Systems offers labels, forms, bags, vials, counter supplies, and packaging supplies for all types of pharmacy markets, including: RetailInstitutional (Geriatric, Correctional)HospitalMail Order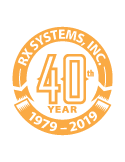 Our company has prospered through reinvestment in
manufacturing and distribution. In 1979, Richard Jensen
founded Rx Systems, Inc. with the intent of creating a
one-stop shop for pharmacy supplies. Beginning with
200 sq. ft. of distribution space, our company now
occupies over 200,000 sq. ft. of manufacturing and
warehousing space, including sites in Hanover, PA –
Dallas, TX – Gilbert, AZ – DeBary, FL and our main
facility in St. Charles, MO.
Rx Systems is the one-stop shop for packaging and supplies for any pharmacy market. The success of our company began with a simple slogan that still holds true today, "Customer Service is Our Business!"

HEADQUARTERS
Rx Systems, Inc.
121 Point West Blvd.
St. Charles, MO 63301-4409
WAREHOUSES
St. Charles, MO
Dallas, TX
Hanover, PA
Gilbert, AZ
DeBary, FL
Ph: 636-925-0001
Ph: 800-922-9142
Fax: 636-925-0041